United States Navy Mark 12 Mod X Special Purpose Rifle
Talk

0
Share
Weapon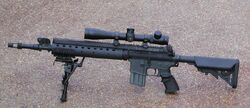 United States Navy Mk12 Special Purpose Rifle
Ammunition Type: 5.56x45mm NATO
Feed System: 20-30 Round STANAG Magazine
Type: Designated marksman rifle
custom(?): No
The United States Navy Mark 12 Mod 0/1 Special Purpose Rifle (SPR) is a rifle in service with United States Special Operations Forces in Operation Enduring Freedom and Operation Iraqi Freedom. SPR initially stood for Special Purpose Receiver, but that nomenclature has been replaced as the weapon became a stand-alone weapons system, and not just an add-on upper receiver assembly (part of the proposed SOPMOD upgrades). The SPR was eventually type classified by the U.S. Navy as the Mk 12.
Ad blocker interference detected!
Wikia is a free-to-use site that makes money from advertising. We have a modified experience for viewers using ad blockers

Wikia is not accessible if you've made further modifications. Remove the custom ad blocker rule(s) and the page will load as expected.