This article, Skorpion VZ-61 (Custom), was written by Mr.Secord. Please do not edit this fiction without the writer's permission.
Weapon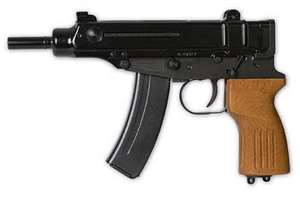 Skorpion VZ-61 (Custom)
Ammunition Type: 9x19mm Parabellum, .45 ACP, .44 ACP/ACM
Feed System: 20-30 Round Magazine, 100 Round Drum
Type: Submachine Gun, Machine Pistol
custom(?): Yes

This custom made variant of the Škorpion VZ-61 is used and owned in a dual wield by Jane Valentine. She, like Jill Valentine, use the Skorpion, however Jane's is very different because not only does it fire a 9x19mm Parabellum, it is adapted to fire a .45 ACP and a new .44 ACP/ACM. It also uses a 100 round drum magazine for every bullet that it fires as well.
Ad blocker interference detected!
Wikia is a free-to-use site that makes money from advertising. We have a modified experience for viewers using ad blockers

Wikia is not accessible if you've made further modifications. Remove the custom ad blocker rule(s) and the page will load as expected.