This article, Jolly Rogers & Calico Jacks (Custom Beretta 92s), was written by Mr.Secord. Please do not edit this fiction without the writer's permission.
Weapon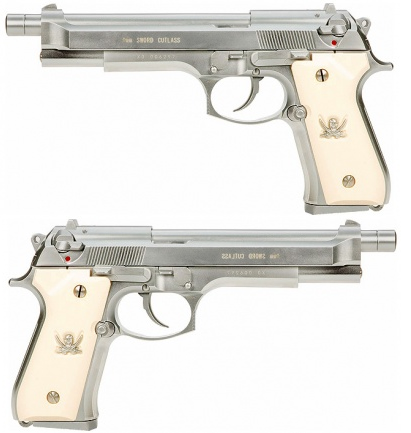 Jolly Rogers
Ammunition Type: 9x19mm Parabellum, .45 ACP, .380 ACP, .32 ACP
Feed System: 15-20 Round Magazine
Type: Semi-Automatic Pistol
custom(?): Yes

The Jolly Rogers are a pair of custom made Beretta 92 pistols, made and used by Michael Franklin Miller. They are semi-automatic pistols that use the 9x19mm Parabellum, .45 ACP, .380 ACP and even .32 ACP. These weapons are also the sisters of Calico Jacks, another pair that look just like them, except a different color.
Calico JacksEdit
 Calico Jacks are the brother pair of the Jolly Rogers and use all the same ammunition, plus they use the .44 ACP/ACM round as well. Another set of the Calico Jacks were specially made for Katara of the New Amazons.
Ad blocker interference detected!
Wikia is a free-to-use site that makes money from advertising. We have a modified experience for viewers using ad blockers

Wikia is not accessible if you've made further modifications. Remove the custom ad blocker rule(s) and the page will load as expected.