This article, Andrew Wesker, was written by The zealot. Please do not edit this fiction without the writer's permission.
| | |
| --- | --- |
| Date of Birth | september 3rd 1980 |
| Date of Death | N/A |
| Gender | male |
| Height | 5'9 |
| Race/Ethnicity | caucasian |
| Occupation | umbrella researcher,USS member,antiumbrella activist,willpharma founder BSAA member |
| Marital status | married |
| Relative(s) | albert wesker (adopted father) jack norman (father) julia norman (sister) |
| Status | alive |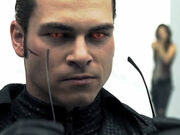 Andrew "drew' wesker is the adopted son of albert wesker and the actual son of former II veltro leader jack norman,one of the founding eleven of the BSAA,Willpharma
s founder and a major anti umbrella activist
rescued:
born on September third nineteeneighty to Jack Norman,his wife and their 3 year old daughter julia. Andrew James Norman was expected to do great things but was thought to be killed in a house fire only to have been saved by umbrella agent albert wesker feeling bad for the child wesker took him under his wing changing his surname to wesker.
work with umbrella:
Ad blocker interference detected!
Wikia is a free-to-use site that makes money from advertising. We have a modified experience for viewers using ad blockers

Wikia is not accessible if you've made further modifications. Remove the custom ad blocker rule(s) and the page will load as expected.